Mango is not only a delicious tropical fruit. It's also very healthy and easy to eat, yes even when not ripe, although most prefer ripe. Anyway, the bottom line here is that there are many benefits you can get from eating mango.
Let's find out what are those and after that a few recipes that you can make if you haven't.
Image source: mango
#1 – Makes a Healthy Snack
Crackers, cookies, ice cream, and chips are common snacks, but why bother when you can have some mango that is very healthy? A single cup of this fruit contains vitamin A, C, B6 and other B vitamins, copper, fiber, potassium, and magnesium.
#2 – Cleanses Skin
Internally, there's a chemical reaction to the nutrients of mango absorbed by the body. Likewise, it can be applied as a body scrub, a moisturizer, and a cleanser. This leaves a healthier, glowing, and smoother skin. It also has the effect to eliminate pimples and clear clogged pores.
#3 – Regulates Cholesterol Level
You won't have any problem with your cholesterol if you consume more mango. The rich amount of potassium helps a lot in regulating blood pressure and controlling heart rate, while other nutrients lower cholesterols.
Image source: mango
#4 – Aids in Weight Loss or Management
Mango is normally sweet and soft, but can easily make you feel full. It does not have enough calories, too, so it's a great food for weight loss.
#5 – Lowers the Risk of Cancer
Aside from vitamins and minerals, mango contains antioxidants that help block free radicals and other cancer causing agents. Have you ever wondered why most Asians less suffer from cancer than white people? Well, they live in a country where mango trees grow, and love eating the fruit.
Image source: kitchenconfidante
#6 – Regulates Blood Glucose
The leaves of mango can be helpful for people with diabetes. Just soak in water, boil, drain, and drink. This helps in normalizing your insulin levels. Of course, the flesh itself also helps but not as much as leaves do.
#7 – Promotes Eye Health
A cup of this fruit contains 25% of the recommended daily value of vitamin A. This vitamin is essential to the eyes. It keeps it healthy to prevent eye problems, such as loss of vision or blindness.
Image source: ourfamilysurvivalcenter
#8 – Improves Digestion
Fiber, which is also found in mango, helps in digestion. It eliminates irregular bowel movement, indigestion, and other gastric problems.
#9 – Beats Heat Stroke
To stay hydrated, mango can provide you that. Drinking blended mango helps in making you fee rejuvenated. This should be a great summer fruit to have.
#10 – Alkalizes the Body
This fruit also helps in maintaining the alkaline level in your body. It's important to have more alkaline than acid to prevent certain illnesses.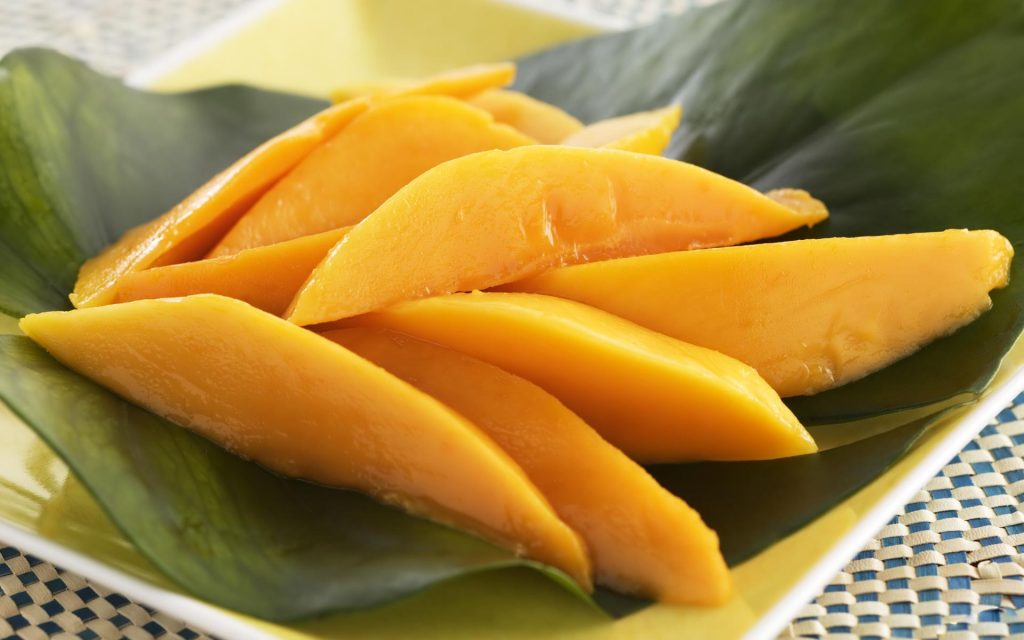 Image source: fantom-xp
#11 – Provides Iron
Iron is also present in mangoes and this mineral is beneficial to the body, especially in women. It aids during pregnancy and menopausal stage.
#12 – Reduces Kidney Stones
Kidney stone is a health problem but this can be prevented with mangoes.
#13 – Improves Sex
There are also aphrodisiac properties of this fruit. It can regulate sex hormones due to vitamin E. This helps a lot in keeping relationship or marriage stronger.
Image source: chewoutloud
#14 – Keeps Memory and Concentration Intact
If you have difficulty remembering things or having no focus, mango can help. It contains glutamine acid that aids in memory.
#15 – Strengthens the Immune System
As mentioned in number 1, this fruit is rich in vitamins and minerals. Generally, these help improve your immune for a much healthier body.
Now, who can say mango is the least fruit to eat? It is as healthy as apples and avocadoes. And to eat this fruit with more interest, here are some recipes you can make.
Image and recipe source: allrecipes
Recipe #1 – Mango Salsa
Ingredients:
1 mango (peeled, seeded, and chopped)
1/4 cup red bell pepper (finely chopped)
1 green onion (chopped)
2 tablespoons cilantro (chopped)
1 fresh jalapeno (finely chopped)
1 tablespoon lemon juice
2 tablespoons lime juice
Method:
1. Mix mango, red bell pepper, jalapeno, onion, cilantro, lime juice, and lemon juice in a bowl.
2. Taste to see if you need to adjust before serving.
Image and recipe source: alexandracooks
Recipe #2 – Quinoa Salad with Mango, Lime, and Ginger
Ingredients:
1 cup quinoa
kosher salt and pepper to taste
2 ripe mangoes (peeled, seeded, diced)
1 cup snap peas (stem removed, sliced)
1/2 cup cashews (chopped)
4 to 5 scallions or spring onions (rinsed, trimmed, and sliced)
1 to 2 serrano chilies or jalapenos (seeded, diced)
ginger (peeled, grated or minced)
1 to 2 lime juice
1/3 cup extra-virgin olive oil
Method:
1. Place quinoa in a sieve as you rinse with cold water. Boil water in a pot and toss quinoa. Drain and place in a large mixing bowl.
2. Sprinkle salt and pepper all over quinoa. Stir to mix.
3. Add mangoes, snap peas, scallions, cashew nuts, chilies, ginger, olive oil, and lime juice. Mix to combine all ingredients. Taste and adjust seasoning if necessary.
4. Refrigerate for 30 minutes and serve.
Image and recipe source: food52
Recipe #3 – Mango Salad with Fennel Frond Pesto
Ingredients:
1 bulb fennel with fronds
1 tablespoon ginger (grated on a microplane)
1 small garlic clove (grated on a microplane)
1 lemon juice
6 tablespoons extra virgin olive oil
kosher salt
2 or 3 ripe mangoes
flaky sea salt
Method:
1. Trim the fronds from the fennel bulb. Chop the thick stalks. Place in a large bowl.
2. Toss chopped fennels, ginger, garlic, and lemon juice in a blender or food processor.
3. Pour olive oil while blending the ingredients.
4. Transfer the mixture into a bowl.
5. Season with kosher salt.
6. Trim the root and stalks from the fennel bulb, then slice thinly. Add into the bowl of pesto.
7. Peel mangoes and slice into three lengthwise (the seed should be the middle piece). From the flesh, slice into long, thin strips. Add into the bowl of pesto.
8. Toss to coat and combine ingredients.
9. Sprinkle with flaky sea salt
10. Taste and adjust seasoning if necessary, and serve.
If you loved these recipes then please feel free to share by clicking one of the share button below.